IMPORTANT UPDATES
With Jefferson County moving to Level Orange later today, we are suspending league operations this week. Our staff is currently in communication with Jefferson County Public Health, and Governor Polis' office in hopes we can resume operations as soon as possible. Until then, please know that we are actively working to be able to provide quality, safe programming for the youth in our community. We will provide more detailed information in the coming days about the remainder of the league.
UPDATED SAFETY GUIDLINES 
We apologize for this inconvenience. We are firm believers that sports play an extremely important role to the mental and physical well-being of our youth. We know this isn't ideal, but we hope that the players can finish out their season strong, and enjoy playing organized basketball. Our number one objective is to keep our doors open so we can continue to provide opportunities for youth in our area.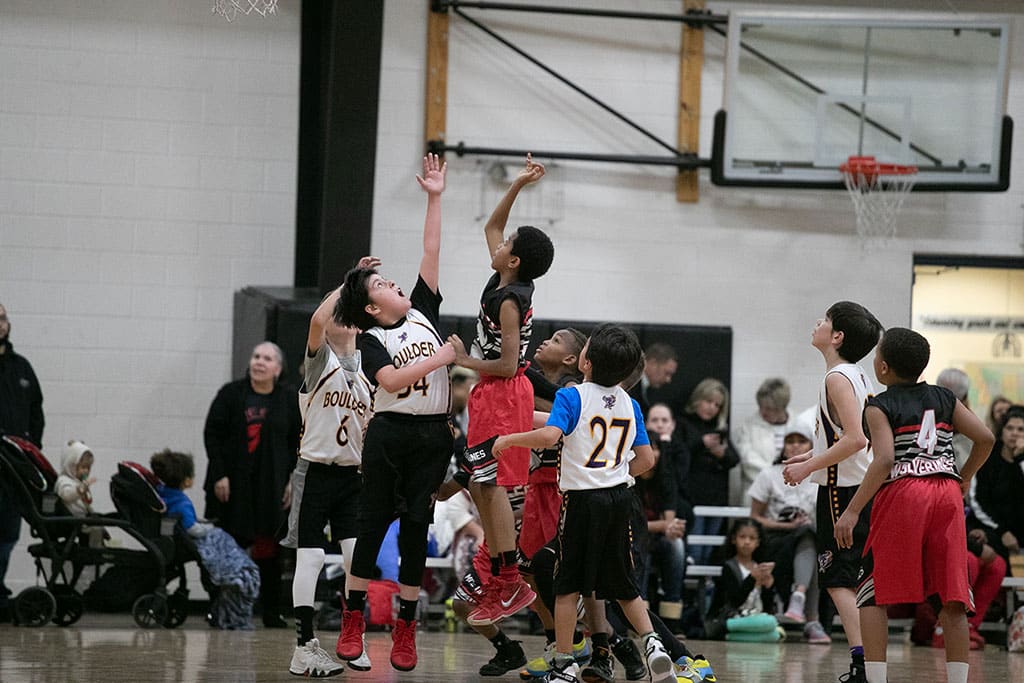 League Features:
Divisions offered: Boys and Girls 6th Grade, 7th Grade, 8th Grade teams
Season: October 18 - November 17 (all games played at Gold Crown Field House between 5:30-9:30 pm)
Format: 5-week season, each team plays 10 games (doubleheaders)
Schedule: Mon. (6th Grade B/G); Tue. (7th Grade B/G); Wed. (8th Grade B/G)
Competition: One division per grade level (open to club and school teams)
Rosters: Limited roster requirements (i.e. no 60% rules)
Fee: $925 per team (registration is by team only and limited to 24 teams per night)
Maximum number of (2) team per program, per grade
Each game will feature two, 20-minute running halves
Each team must have a minimum of seven players with a maximum of twelve players
Two officials per game will be provided
Each team will need to provide one volunteer to run the score book or score clock
NO DAILY ADMISSION FEES
Dates and Times:
October 18 - November 17, 2021 (5 weeks)
Monday Nights - Boys & Girls 6th Grade
Tuesday Nights - Boys & Girls 7th Grade
Wednesday Nights - Boys & Girls 8th Grade
Registration Fee:
$925 per team
10-game guarantee
Registration Deadline:
Register by October 11 (5pm)
Contact:
Registration:
SOLD OUT: Boys 7th, Boys 8th, Girls 6th, 7th & 8th
OPENINGS: Boys 6th (1)
Health/Safety Guidelines**
Teams will be required to enter/exit pre-determined doors based on which court(s) they are scheduled.
The Gold Crown Field House will be segmented into six areas
For safety and cleaning purposes, all teams must exit the building immediately after their last game of the day.
All players, coaches and staff will be required to wear face coverings from the time they enter the facility, to the time they leave.

This includes while players are competing.

Only coaches, players, and one volunteer scorekeeper are allowed in the building.
**Coaches have received and email regarding check-in protocols, waivers, and more information.
Gold Crown will continue to monitor COVID-19 Health and Safety Guidelines and communicate with teams as further information becomes available. View Gold Crown Foundation's current Safety Guidelines and Protocols.
PREPARING KIDS FOR THE GAME OF LIFE