Date and Times:
Thursday, March 17:
Girls Game @ 5:45pm
Boys Game @ 7:30pm
Admission: $5 for spectators 18 and over (no charge for students with valid student ID, high school coaches and athletic directors)
Programs: $5
Presented By: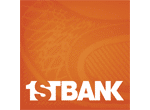 The Jeffco High School Senior Basketball Games are an annual event where we can honor the senior class for "one last game." The players are nominated by current Jeffco Coaches, with at least one player represented from each school. The coaches are the current Jeffco League Coaches of the Year. This event is a lot of fun and a open to the public! Come cheer on your favortie player one last time at the Gold Crown Field House.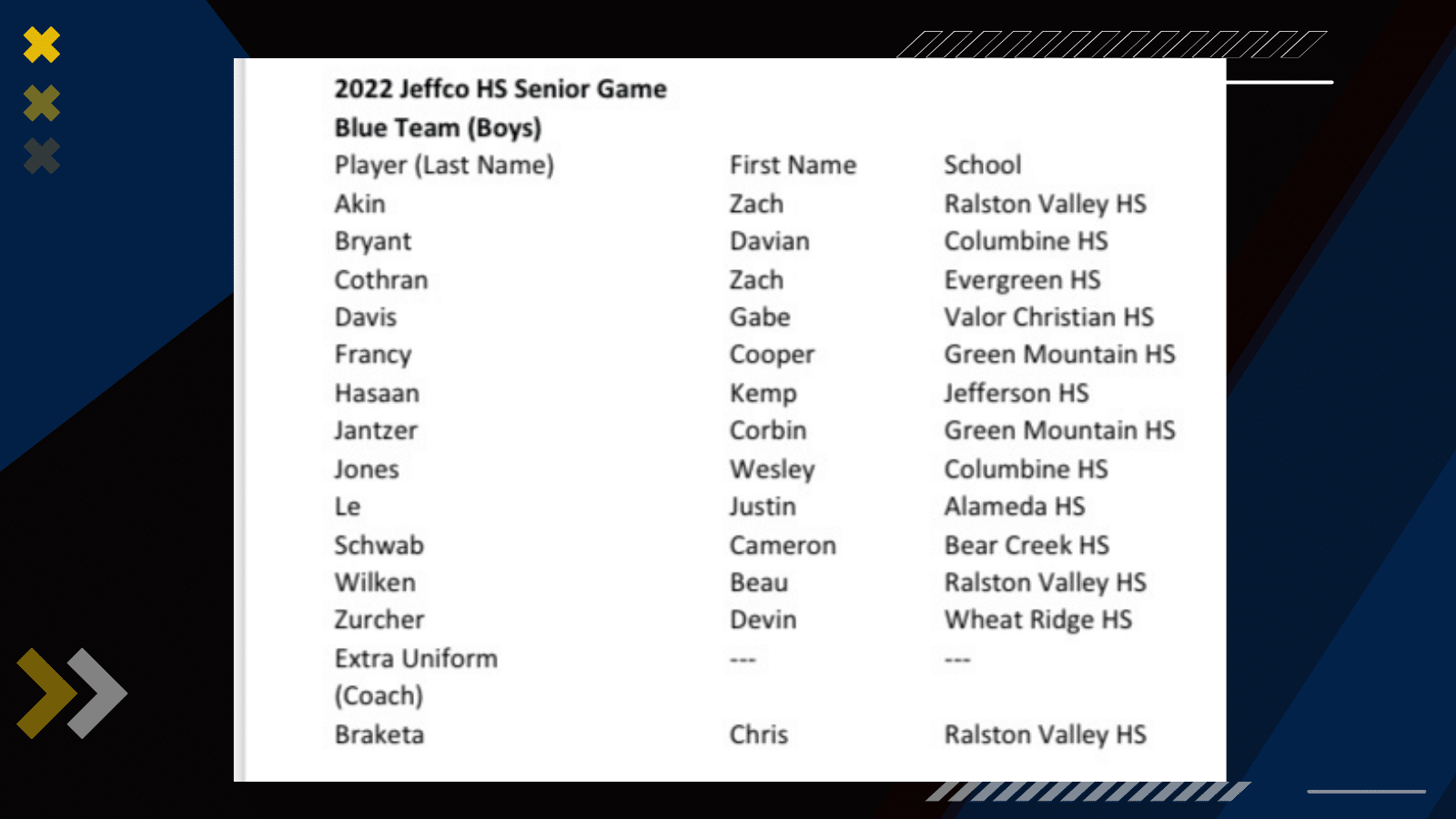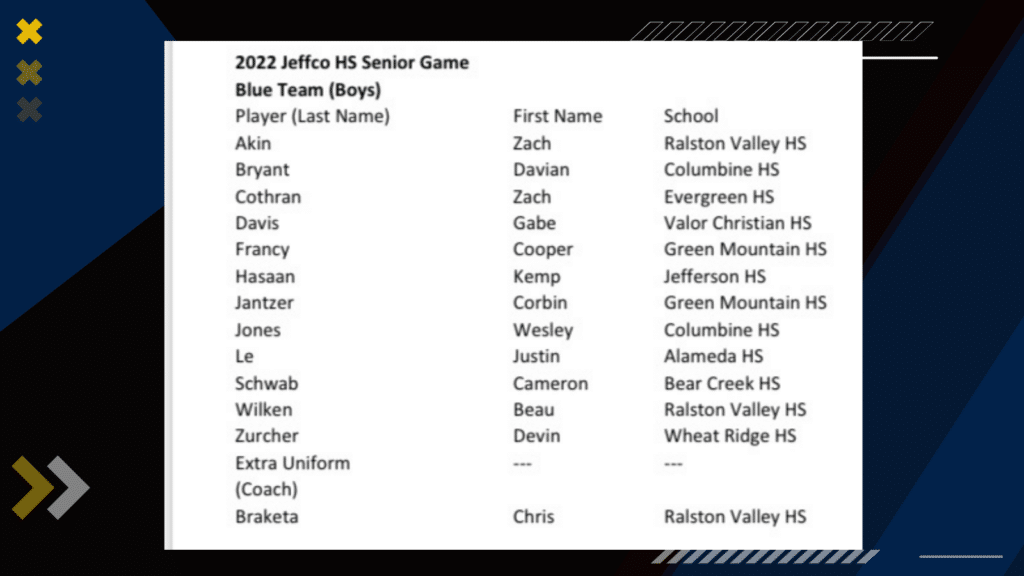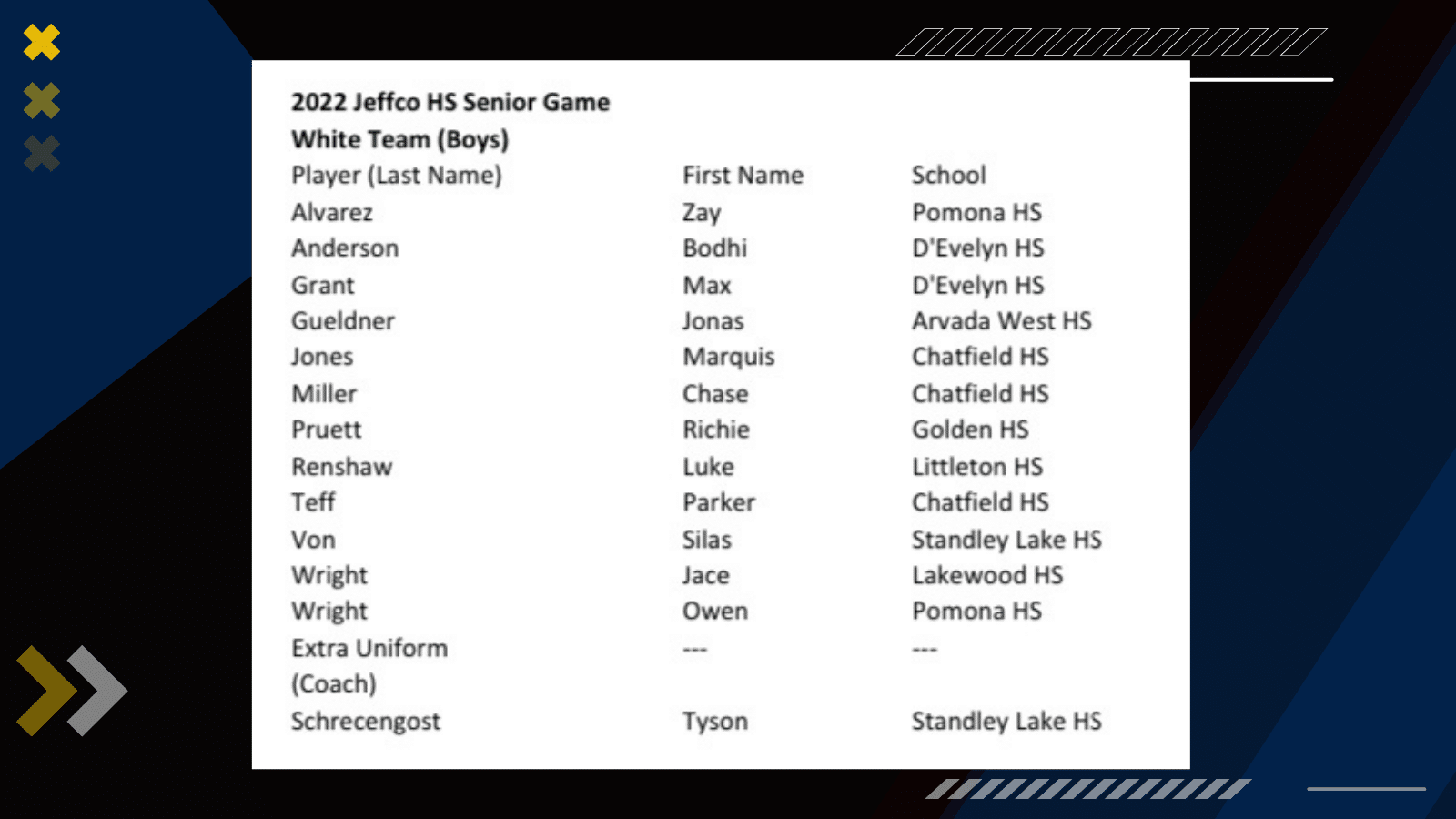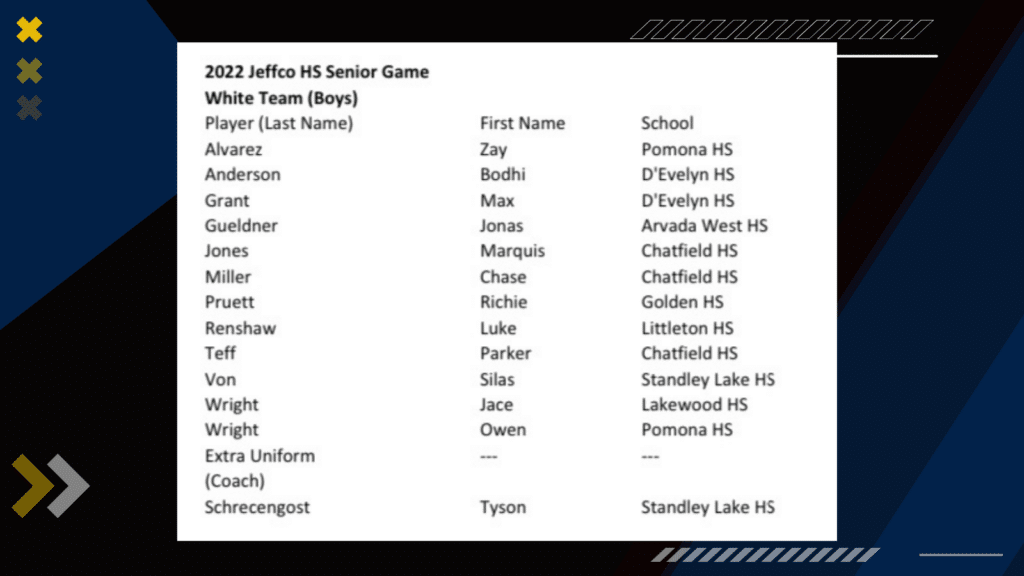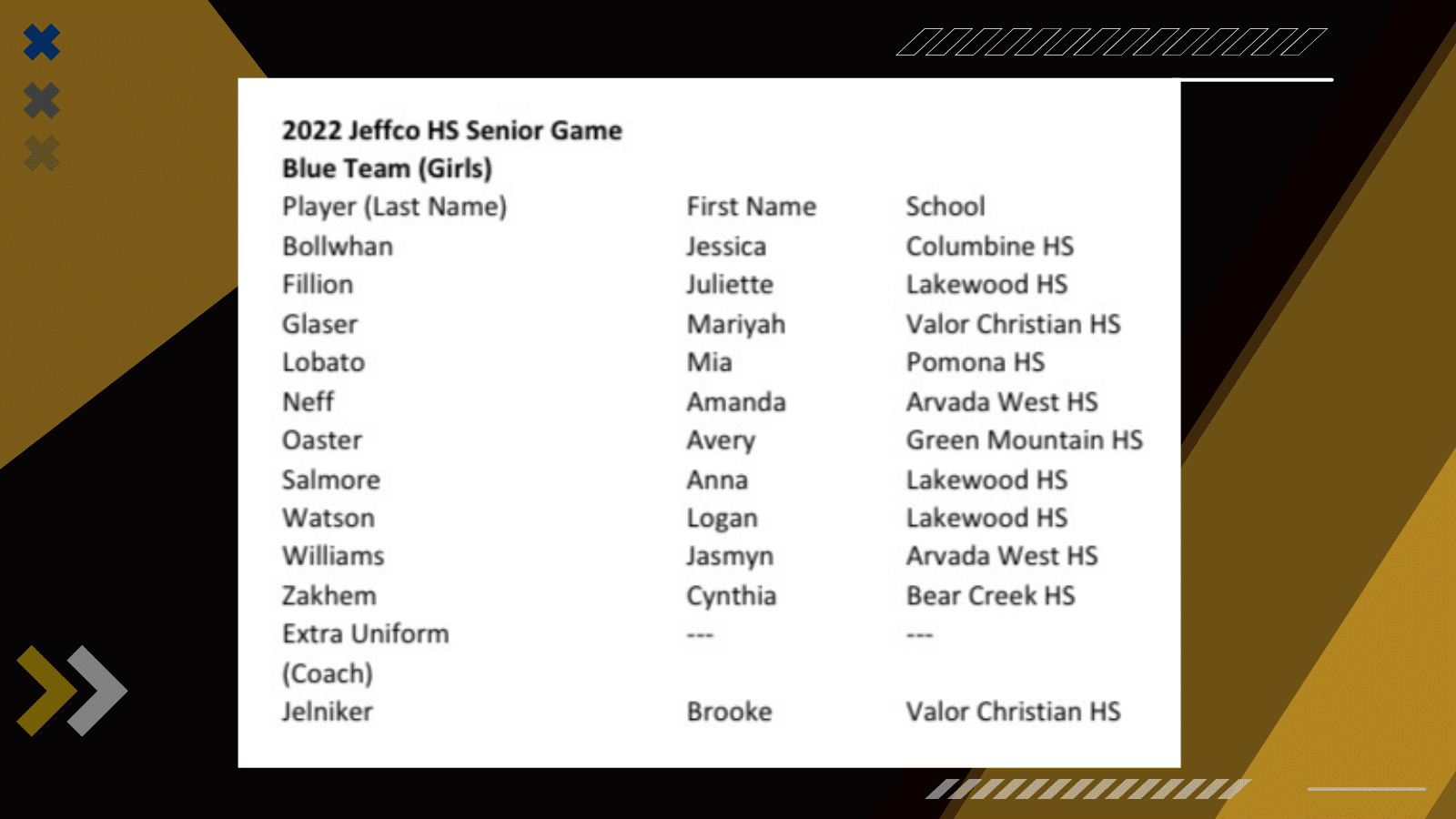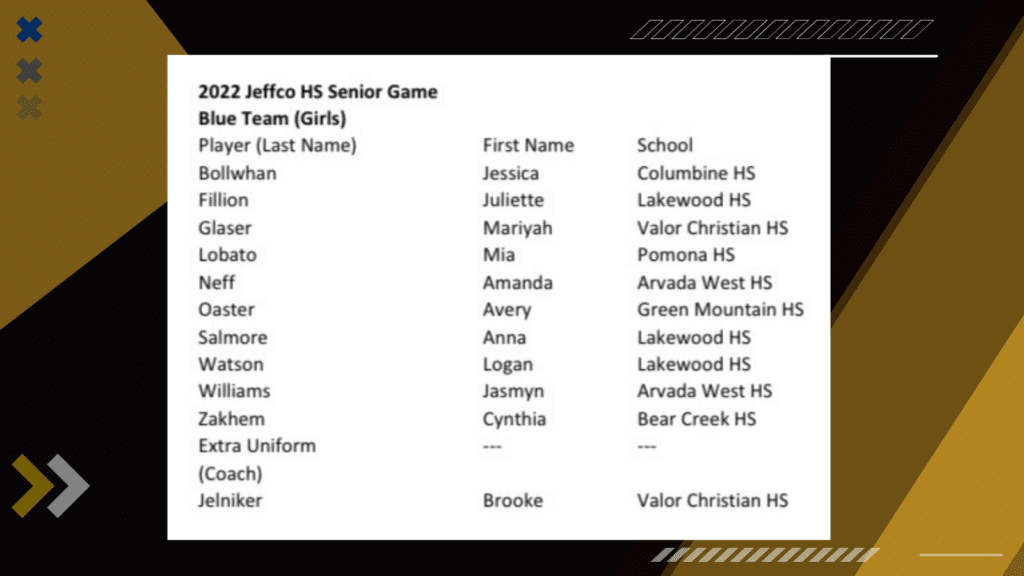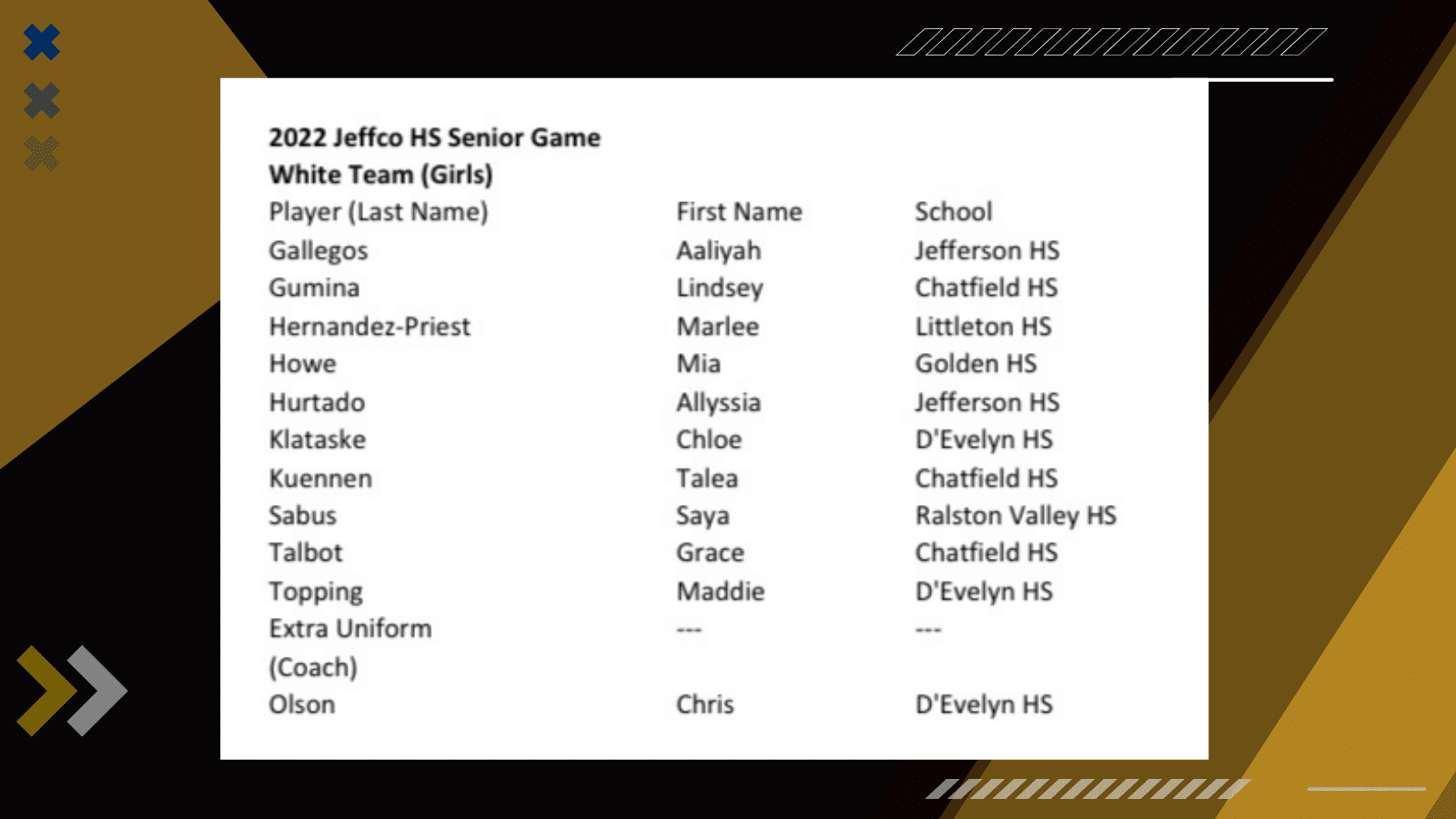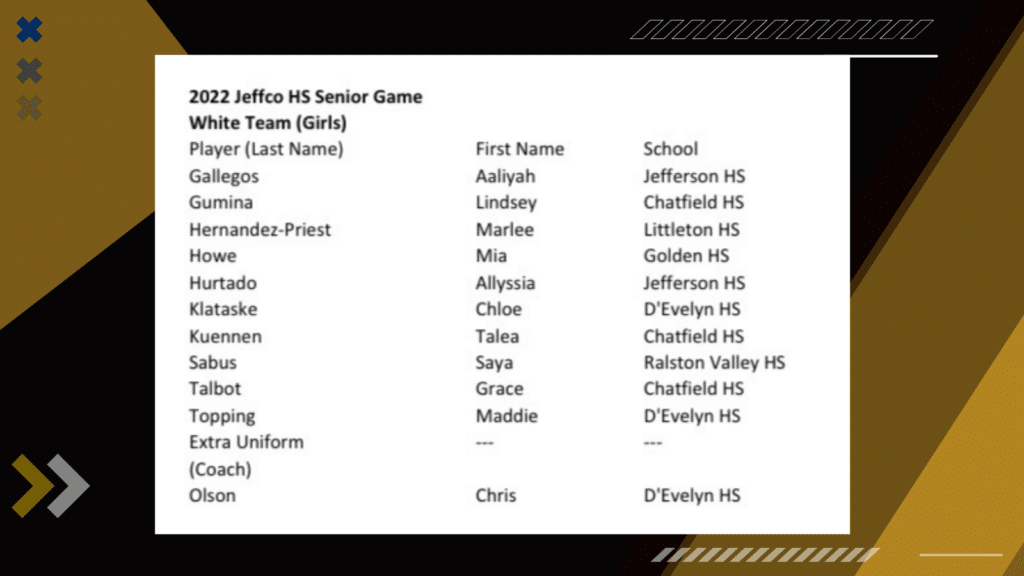 Watch Highlights from the 2022 Games
Watch games on LiveBarn!
We are a LiveBarn Venue. Now it's possible to stay connected by watching all events Live and On-Demand.

When signing up for a new account, get 10% off with Promo Code: b589-gold
Participating High Schools: Alameda, Arvada, Arvada West, Bear Creek, Chatfield, Columbine, Conifer, Dakota Ridge, D'Evelyn, Evergreen, Golden, Green Mountain, Jefferson, Lakewood, Littleton, Pomona, Ralston Valley, Standley Lake, Valor Christian and Wheat Ridge.
Player Selection Process: Each of the twenty schools will select one senior to represent their team in the game (Jeffco 5A and 4A #1 and #2 teams will select two seniors each). Players will then be divided into two teams with 12 players on each team.  In order to make the selection of the teams as objective as possible, teams will be formed using a predetermined selection process
Note: If a team does not have a senior on their 2022 roster, then that team will not be allowed to submit a player.  If for any reason there are less than 24 players for the two teams, coaches will be allowed to nominate other seniors for any available wildcard spots.  Coaches will then vote for players (with the exception of their own) and the player(s) with the most votes will fill the remaining wild card spot(s).
Archived Rosters and Results
2021
Girls Game (White 70 Blue 58)
MVP/White: Sydney Bevington – Ralston Valley HS
MVP/Blue: Alexis Folks – Arvada West HS
Boys Game (Blue 130 White 124)
MVP/Blue: Garrett Rogers – Columbine HS
MVP/White: Westin Miller – Golden HS
2020
Games cancelled due to health concerns
Lil Mac's Hustle & Heart Scholarship Award Winners
Susie Puchino – Littleton HS
Blake Schell – Green Mountain HS
2019
Girls Game (White 68 Blue 62)
MVP/Hustle and Heart Award: Claudia Dillon – Evergreen HS
Boys Game (Blue 113 White 102)
MVP/Hustle and Heart Award: Cameron Dean – Columbine HS
2018
Girls Game (White 78 Blue 75)
MVP/White: Samantha Van Sickle – Ralston Valley HS
MVP/Blue: Abby Garnett – Golden HS
Boys Game (Blue 136 White 126)
MVP/Blue: Jordan Sandoval – Lakewood HS
MVP/White: Adam Thistlewood – Golden HS
PREPARING KIDS FOR THE GAME OF LIFE