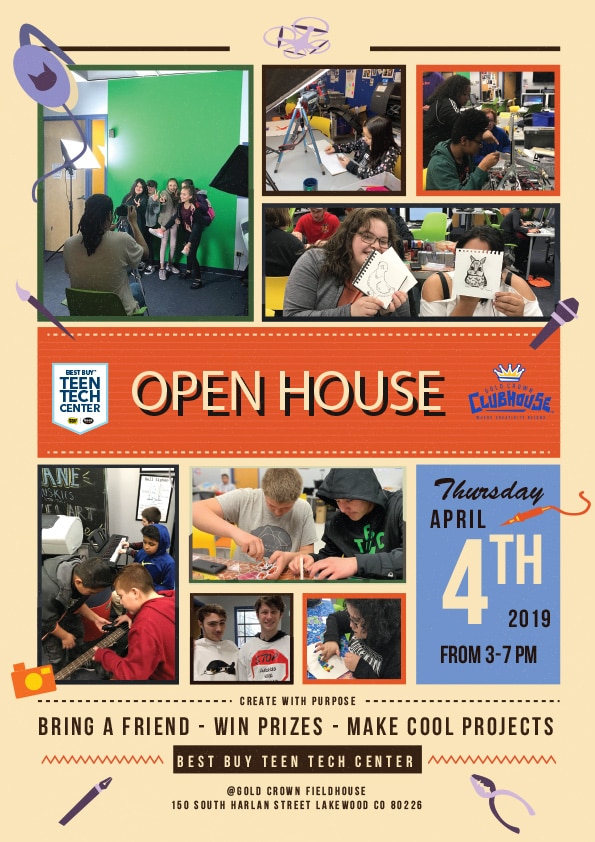 Welcome to our Open House!
Gold Crown Enrichment would like to invite all youth ages 12 - 18 to an Open House at the Clubhouse (150 S. Harlan Street) on April 4, 2019 between 3:00 and 7:00. This event will feature select projects by the Clubhouse Members, hands on opportunities to create, and an introduction to all that this Best Buy Teen Tech Center has to offer.  Bring a friend and get a prize!  Email Tamera Sakotas (tsakotas@goldcrownfoundation.com) with any questions. *Note: please enter on the west side of the Gold Crown Field House under the blue awning.
What Is The Clubhouse?
When you hear "Gold Crown" you often think sports programs. But did you know that we have a FREE after-school program for youth ages 12 - 18 with a focus on interest-based learning? The Clubhouse is part of the Gold Crown Enrichment program, and runs daily from 3 pm - 7 pm (1 pm - 5 pm in the summer).
At the Clubhouse, we teach technology through exploration, creativity and self-expression. Members can come by and stay as long as they'd like to work on creative projects, tinker with technology, hang out with mentors or learn something new. Plus, you'll have access to professional grade equipment such as 3D-printers, drones, laser cutters, Adobe Suite and more.