We're Hiring!
Join the Enrichment Team! We're looking for a C2C Pathways to Success Coordinator to guide and mentor the next generation of teens.
The C2C Pathways to Success program provides selected youth the opportunity to focus on a specific area of technology (e.g., web development, 3D design, video production and  graphic design), to develop their workforce readiness skills and gain real-world work experience through job shadowing and a paid internship placement. Staff guides the participants through the 12-month program providing college and career guidance.  This program is offered free of charge to Gold Crown Clubhouse members and interested young adults, 16-21 years of age.
Info:
Applications for the 2021-2022 year are now closed. Please fill out an interest form if you'd like to stay up to date on all the C2C program offerings for next year. Thank you to all those who applied!
Interested in Becoming a C2C Intern Host?
C2C Pathways program matches youth with 120 hour paid summer internship opportunities in areas of interest including health, the arts, technology, marketing, architecture, engineering, business, nonprofit administration, and more! Successful summer internship placements begin by meeting with the C2C Pathways Coordinator to identify potential roles/responsibilities for youth interns. Once placed, interns will begin to support host organization and businesses with day to-day-tasks and help their employer meet larger, organization-wide goals.
Timeline:
September - May:   Working with our national partner, Project Invent, C2C teens will tackle the engineering design process to identify and address a need in their community and work together to create a solution to solve it. This hands-on engineering-based project will take on all the business components of a real-world start-up including opportunities in business, finance, human resources, marketing and communications. The hope is by working with local and national partners, participants will create a product that provides access to recreational activities for youth with special needs.  Our workforce development program will also include career research, resume writing, mock interviews as well as college and career readiness training. Students will also take their learning into their own hands and work independently, with the support and knowledge of our Gold Crown Staff, to gain new technology skills in the areas of their choice
June - August: Paid Summer Internship placement for all C2C students in areas including business, hospitality, health sciences & medicine, technology, engineering, marketing, digital media, arts, culture, law, public safety, skilled trades and technical sciences.
Additional Applicant Information:
Youth are selected based on their application and merit. Black, Indigenous, and People of Color (BIPOC), immigrants, and LGBTQ+ youth are strongly encouraged to apply. We also encourage interested participants to become a member at of one of our Clubhouses and/or participate in other Enrichment programs. 
Program Location:
Gold Crown Clubhouse at Edgewater: 2501 Chase St. Edgewater, CO 80214
Best Buy Teen Tech Center @ the Gold Crown Field House: 150 S. Harlan St. Lakewood, CO 80226
Contact:
C2C Program Coordinator, Alexis Lopez: 303-233-6776 x 222 or alopez@goldcrownfoundation.com
Congratulations C2C Graduates, Class of 2021
HOW CAN YOU SUPPORT THIS PROGRAM?
Guest speak, host a field trip, or support a skill building workshop
Support a team of youth as a Job Shadowing Partner
Give youth the opportunity to gain real-world work experience as a Summer Internship Partner
Sponsor a young person's paid summer internship
Sponsor program supplies, meals, transportation, professional clothing
Mentor a young person to help them navigate a professional workplace
Tutor youth to help support their continued academic success
Thank you to our C2C Pathways To Success Supporters
Recent Blog Posts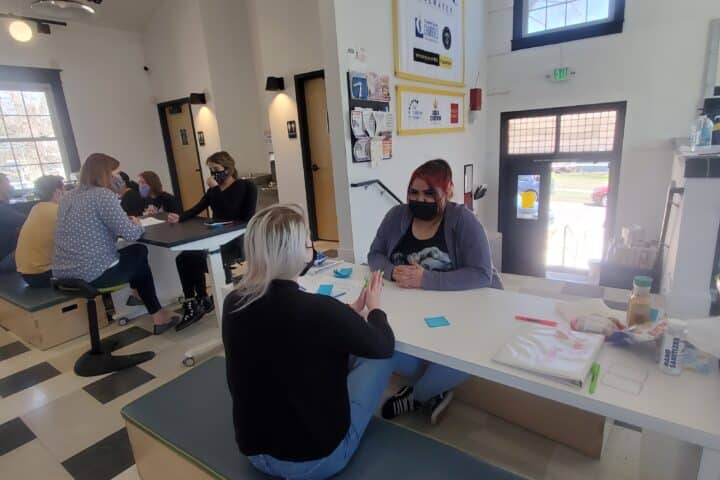 By Laura Casavantes One place, one person, one action is all it takes to change someone's life in a matter of seconds. For me, it was a place called Gold...
PREPARING KIDS FOR THE GAME OF LIFE