Judy was looking for a fun, safe, and affordable place for her three kids to go and play sports over the summer. She came across the Gold Crown Summer Camps and the rest is history.  DeMarco and Jayla (and older sister, Mariya) are Colorado natives who attended St. Rose of Lima School and Arrupe Jesuit. But more importantly, they were Gold Crown Field House regulars, who we looked forward to seeing every summer just as much as they did.
DeMarco and Jayla have memories of our summer camps from as young as seven years old. Their mom always encouraged them to try new sports and activities, even if they didn't think they would like them. Each summer they came to every sports camp offered: Denver Nuggets Hanzlik Hoops Camp, Volleyball Camp, Golf Camp, Lacrosse Camp, and Multi-Sport Camp. They were also part of our annual holiday field day through their school. While they loved trying all the camps, Jayla's favorite was volleyball and DeMarco's was the Hanzlik Hoops Camp.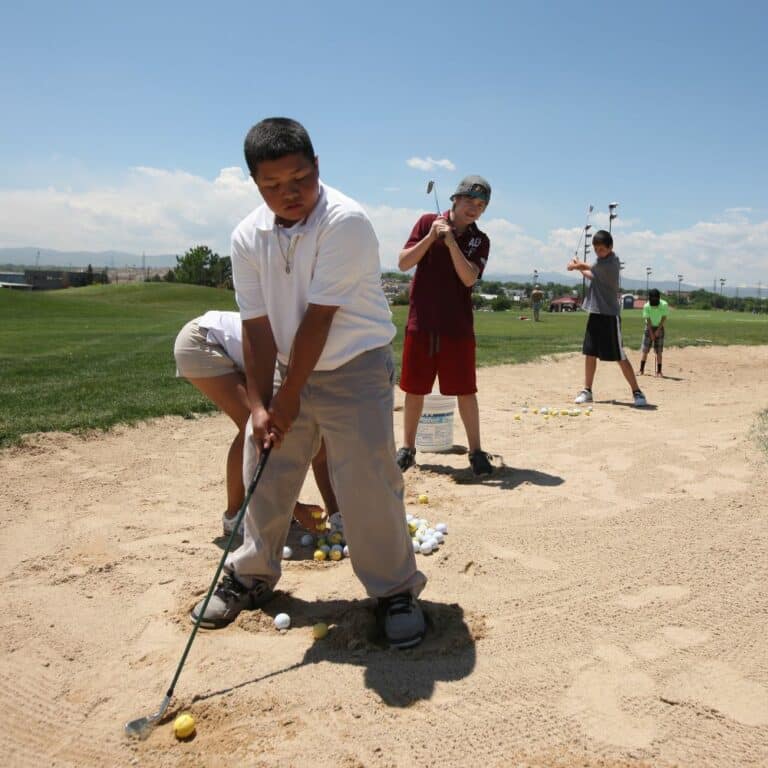 Looking back at their time spent at the Gold Crown Field House, they remember the friendships made each summer. "It wasn't just relationships with my teammates, but with the coaches as well. They gave you a feeling that they genuinely cared about you and they always helped me with my form whenever I struggled," Jayla reflects. After dressing up with her teammates in matching bandanas for the volleyball camp tournament, she never puts on a bandana without thinking about that summer. DeMarco also loved gaining access to "high quality equipment and facilities" at each camp. And of course it wouldn't be Hanzlik Camp without the prizes, where he "loved getting dripped out in some Nuggets gear or getting the chance to go watch live professional sporting events like the Nuggets and Rockies." The overall experience kept them coming back each year.
They are filled with memories of their camp days, but their participation also impacted where they are today. DeMarco is working for 9NEWS as an evening/nightside news editor and photojournalist for 9 Preps. His love of sports has taken him into his career and new goal which is to be "on air." He is looking forward to sharing events like the ones he was a part of at Gold Crown, as well as expressing gratitude for the people who made it possible for him to participate. Jayla attends CU Boulder and is still tight with the Gold Crown community, which she couldn't step away from. She works the Hanzlik Camp each summer running the Free Throw Pledge and you can also find her working concessions at the Gold Crown Field House.
"Participating in Gold Crown programs broke barriers for me," DeMarco states. The exposure to various sports and opportunities laid a foundation of knowledge and respect and led him to where he is today. For Jayla, her participation broke her out of her shell and helped her talk with new people without feeling anxious. She wants youth today to be "open and to not be afraid of stepping out of your comfort zone. You have to be uncomfortable to get comfortable."
Last but not least, Demarco stresses the importance of not being afraid to fail. "It is better to say you tried than to say that you decided not to." We challenge each of you to take that advice, no matter where you are at in life.
While they are grateful for us, we are grateful for them. Every kids starts somewhere, and we couldn't be more proud that somewhere was Gold Crown Foundation for DeMarco and Jayla.
We want to hear from YOU! If you have an alumni story to share, submit your story.